Gentle Cleanser
Mild cream cleanser removes impurities and excess oil, while soothing and calming dry or sensitive skin.
Formulated for dry, sensitive or traumatized skin, Gentle Cleanser removes excess impurities and oil without drying the skin. Gentle enough to be used several times a day, this non-irritating cleanser conditions, soothes, and calms.
Non-irritating ingredients
Contains emollients and skin conditioning ingredients
Soothing and calming for sensitive or traumatized skin
Ideal after in-office skin rejuvenating procedures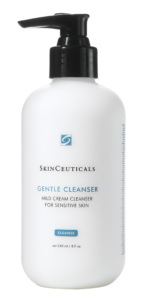 Phyto Corrective Gel
A hydrating, soothing gel with botanical ingredients ideal for sensitive or problem skin types to calm and hydrate skin.
Phyto Corrective Gel contains hyaluronic acid, cucumber, thyme, and other botanical ingredients, making it an ideal moisturizer for sensitive skin. It also features mulberry to help minimize the appearance of discoloration and promote a clear, fresh-looking complexion. This oil free soothing gel is also an excellent moisturizer for acne-prone skin.
Contains cucumber and thyme to soothe and calm skin
Mulberry helps fade the appearance of discoloration
Non-comedogenic
Triple Lipid Restore 2:4:2
Anti aging cream to refill cellular lipids and nourish dry skin.
Triple Lipid Restore 2:4:2 is an anti aging cream formulated with a maximized concentration of lipids: 2% pure ceramides, 4% natural cholesterol, and 2% fatty acids. This unique lipid correction cream contains the first 2:4:2 cholesterol-dominant ratio to help restore skin's external barrier and support natural self-repair, while potently nourishing aging skin for improvement in the visible appearance of skin smoothness, laxity, pores, and overall radiance.
Restores essential skin lipids: ceramides, natural cholesterol, and fatty acids
Improves the look of skin fullness, texture, and pore appearance
Improves the appearance of skin evenness and overall radiance
Unique lipid stabilization system in a lightweight and fast-absorbing texture
Paraben-, and dye-free